© Alligator Hunting In Florida 2012
FLORIDA ALLIGATOR / GATOR HUNTING
Florida alligator hunting year round on thousands of gator packed acres. All Our Florida gator hunts are
conducted on high population Private Land. We cater to your hunting dreams, daytime, nighttime, on land,
water, with bow, rifle, fishing pole, or harpoon. It's your gator hunt. Don't just get taken for a boat ride, we
GUARANTEE your alligator hunt! We are ranked Florida's #1 alligator hunting destination for a reason. We
hunt for gators from 5 foot for your desktop. To 12 plus feet, you choose the size. You will have the time of
your life, fishing, hunting, bird watching, site seeing, boat riding, and of course reeling in Florida's last
dinosaur.
Ranch Location
1 hour south of Tampa.
Or 1 hour north of Fort
Myers.
1-863-546-0697

South Florida alligator hunting with a rifle.
It was around 7am when we arrived at the South Florida alligator hunting area and it was a dryer Florida
day so we we're hunting by spot & stalk on land. My alligator guide knew what he was doing, because it
was only around an hour of hunting and we saw five gators Basking in the Florida sun, but we was looking
for a 10 foot plus gator. Four or five more alligators seen in another 30 minutes, and I heard my guide say
there he is, like he has seen this alligator in his Florida back yard or something. I looked with my
binoculars and saw the giant gator lying in the Florida sand on a bank.
Give me the shooting sticks I said, knowing that this gator was at least 10 feet. I shot him in the head at
about 80 yards, and the giant gator slid into the Florida canal like a snake. I had never been fishing in
Florida yet, but out came the alligator fishing poles. After four casts we hooked onto him, and my gator
guide handed me the pole. It was like have a giant Florida shark on I guess. I never would of thought I
would be hunting alligators with a fishing pole. After about 45 minutes or so I had him at the bank. Give
me the pole my gator guide says. Then he handed me a different gator pole. What do I do with this? It's a
bang stick; just hit the gator in the head when he gets close enough. As my guide pulled, and pulled on
the pole, up came a giant alligator directly in front of my feet. 10-foot gator, ya right, he was at least 12
foot. Bang I hit him in the head and a small splash and I had a 12-foot alligator that we were trying to drag
up the Florida bank.
All I can say is a 12-foot gator is a beast, and your going to need help getting the gator anywhere.
What a hunt, I highly recommend this outfit!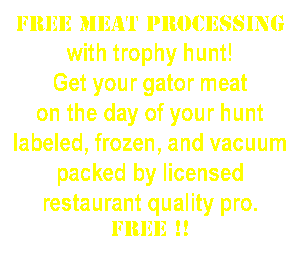 NOT THE CHEAPEST GATOR HUNT, BUT WE PROMISE THE BEST ONE!
* info and prices on web site are subject to change without notice,
please contact us for the most accurate and current info.

CLOSE AIRPORTS!
We are located about 85 miles / 1hour 15
minutes from Tampa international airport
or 60 miles / 50 minutes from ft. Myers
international airport.
INFO ON HOW TO FLY WITH FIREARMS
Transportation web site.
http://www.tsa.gov
or call 1-866-289-9673
WHAT TO EXPECT!
You can expect to see 5 to 25 alligators a day that range
from 5 foot to 13 foot plus on your hunt. You will be
hunting with all weapons needed to insure we get your
alligator. By Florida law you may use rifle in daylight
hours only and crossbow, bang stick, bow, spear and
pole at night. You can expect to have a great time
hunting is a game rich environment with a guarantee you
go home with an alligator. Your meat is free of charge.
Skin and quartering charges are $30 to $35 per foot.
We have taxidermy pick up for free, and have all hunting
gear needed to ensure you get an alligator. Lodging on
exotic game ranch if you request. Food and cook added
at additional cost.
Combo hunts with exotics and hog added upon request
for additional costs.
WHAT TO WEAR HUNTING.
Camouflage shirt and pants. From April
to October light weight short sleeve
shirts. Nov to March add long sleeve
shirt and light weight jacket. Footwear
should be hunting / hiking boots ankle
high or higher, or rubber boots.
(suggested not required)
LICENSE NEEDED!
An agents license is required to hunt
alligator in Florida. The cost of licensing
is $52 and is NOT included in hunt
pricing. After booking your hunt, we will
text you a link or phone # to get your
license. Stress free licenses! We are
here to help all the time!
SIGHTING IN YOUR RIFLE OR BOW.
We have a range from 25 yards to 200
yards at our exotic ranch to make
sure you on target before you hunt.